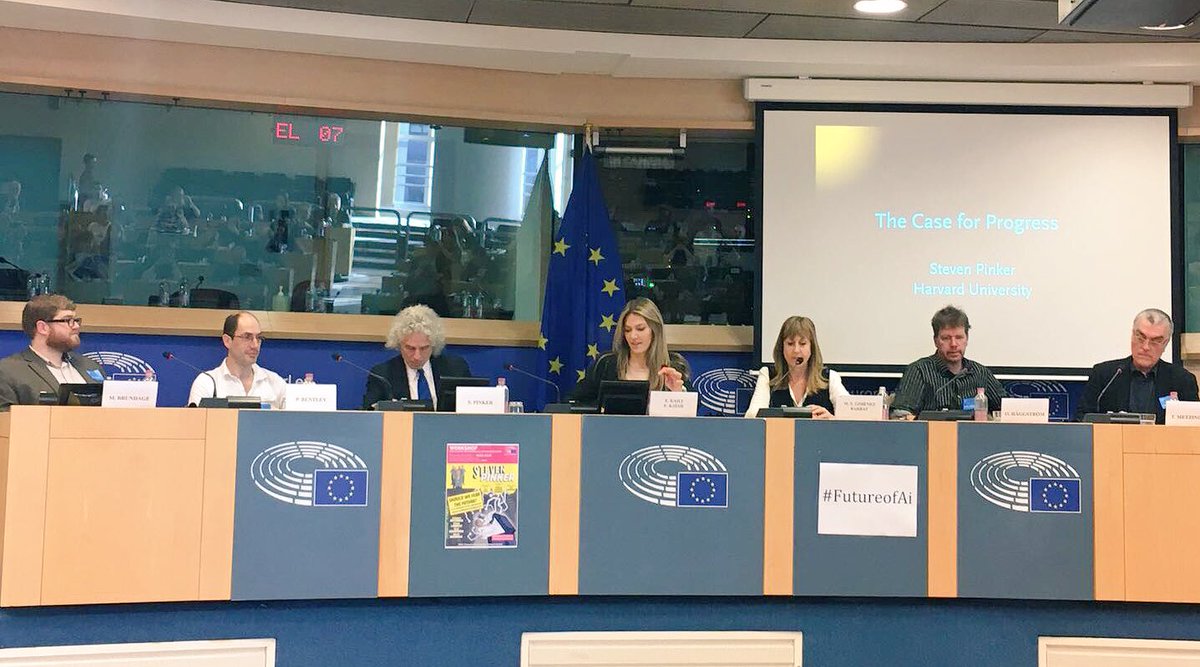 I owe my readers a report from the seminar entitled
"Should we fear the future? Is it rational to be optimistic about artificial intelligence?"
at the European Parliament's
STOA (Science and Technology Options Assessment)
committee in Brussels last Thursday. In my opinion, all things considered, the event turned out OK, and it was a pleasure to meet and debate with the event's main speaker
Steven Pinker
as well as with co-panelists
Miles Brundage
and
Thomas Metzinger
.
1
I'd just like to comment on Pinker's arguments for why we should not take seriously or publicly discuss the risk for an existential catastrophe caused by the emergence of superintelligent AGI (artificial general intelligence). His arguments essentially boil down to the follwing four points, which in my view fail to show what he intends.
1. The general public already has the nuclear threat and the climate threat to worry about, and bringing up yet another global risk may overwhelm people and cause them to simply give up on the future. There may be something to this speculation, but to evaluate the argument's merit we need to consider separately the two possibilities of

(a) apocalyptic AI risk being real, and

(b) apocalyptic AI risk being spurious.

In case of (b), of course we should not waste time and effort on discussing such risk, but we didn't need the overwhelming-the-public argument to understand that. Consider instead case (a). Here Pinker's recommendation is that we simply ignore a threat that may kill us all. This does not strike me as a good idea. Surviving the nuclear threat and solving the climate crisis would of course be wonderful things, but their utility is severely hampered in case it just leads us into an AI apocalypse. Keeping quiet about a real risk also seems to fly straight in the face of one of Pinker's most dearly held ideas, namely that of scientific and intellectual openness, and Enlightenment values more generally. The same thing applies to the situation where we are unsure whether (a) or (b) holds - surely the approach best in line with Enlightenment values is then to openly discuss the problem and to try to work out whether the risk is real.

2. Pinker held forth a bunch of concerns that seemed more or less copy-and-pasted from the standard climate denialism discourse. These included the observation that the Millennium bug did not cause global catastrophe, whence (or so the argument goes) a global catastrophe cannot be expected from a superintelligent AGI (analogously to the oft-repeated claim that the old Greek's fear that the skies would fall down turing out to be unfounded shows that greenhouse gas emissions cannot accelerate global warming in any dangerous way), and speculations about the hidden motives of those who discuss AI risk - they are probably just competing for status and research grants. This is not impressive. See also yesterday's blog post by my friend Björn Bengtsson for more on this; it is to him that I owe the (in retrospect obvious) parallel to climate denialism.
At this point, one may wonder why Pinker doesn't do the consistent thing, given these arguments, and join the climate denialism camp. He would probably respond that unlike AI risk, climate risk is backed up by solid scientific evidence. And indeed the two cases are different - the case for climate risk is considerably more solid - but the problem with Pinker's position is that
he hasn't even bothered to find out what the science of AI risk says
. This brings me to the next point.
3. All the apocalyptic AI scenarios involve the AI having bad goals, which leads Pinker to reflect on why in the world would anyone program the machine with bad goals - let's just not do that! This is essentially the idea of the so-called Friendly AI project (see Yudkowsky, 2008, or Bostrom, 2014), but what Pinker does not seem to appreciate is that the project is extremely difficult. He went on to ask why in the world anyone would be so stupid as to program self-preservation at all costs into the machine, and this in fact annoyed me slightly, because it happened just 20 or so minutes after I had sketched the Omohundro-Bostrom theory for how self-preservation and various other instrumental goals are likely to emerge spontaneously (i.e., without having them explicitly put into it by human programmers) in any sufficiently intelligent AGI.

4. In the debate, Pinker described (as he had done several times before) the superintelligent AGI in apocalyptic scenarios as having a typically male psychology, but pointed out that it can equally well turn out to have more female characteristics (things like compassion and motherhood), in which case everything will be all right. This is just another indication of how utterly unfamiliar he is with the literature on possible superintelligent psychologies. His male-female distinction in the general context of AGIs is just barely more relevant than the question of whether the next exoplanet we discover will turn out to be male or female.
In summary, I don't think that Pinker's arguments for why we should not talk about risks associated with an AI breakthrough hold water. On the contrary, I believe there's an extremely important discussion to be had on that topic, and I wish we had had time to delve a bit deeper into it in Brussels. Here is the video from the event.
(Or watch the video via
this link
, which may in some cases work better.)
Footnotes
1) My omission here of the third co-panelist
Peter Bentley
is on purpose; I did
not
enjoy his presence in the debate. In what appeared to be an attempt to compensate for the hollowness of his arguments,
2
he reverted to assholery on a level that I rarely encounter in seminars and panel discussions: he expressed as much disdain as he could for opposing views, he interrupted and stole as much microphone time as he could get away with, and he made faces while other panelists were speaking.
2) After spending a disproportionate amount of his allotted time on praising his own credentials, Bentley went on to defend the idea that we can be sure that a breakthrough leading to superintelligent AGI will not happen. For this, he had basically one single argument, namely his and other AI developers' experience that all progress in the area requires hard work, that any new algorithm they invent can only solve one specific problem, and that initial success of the algorithm is always followed by a point of diminishing returns. Hence (he stressed), solving another problem always requires the hard work of inventing and implementing yet another algorithm. This line of argument conveniently overlooks the known fact (exemplified by the software of the human brain) that there do exist algorithms with a more open-ended problem-solving capacity, and is essentially identical to item (B) in Eliezer Yudkowsky's eloquent summary, in his recent essay
There is no fire alarm for artificial general intelligence
, of the typical arguments held forth for the position that an AGI breakthrough is either impossible or lies far in the future. Quoting from Yudkowsky:
Why do we know that AGI is decades away? In popular articles penned by heads of AI research labs and the like, there are typically three prominent reasons given:

(A) The author does not know how to build AGI using present technology. The author does not know where to start.

(B) The author thinks it is really very hard to do the impressive things that modern AI technology does, they have to slave long hours over a hot GPU farm tweaking hyperparameters to get it done. They think that the public does not appreciate how hard it is to get anything done right now, and is panicking prematurely because the public thinks anyone can just fire up Tensorflow and build a robotic car.

(C) The author spends a lot of time interacting with AI systems and therefore is able to personally appreciate all the ways in which they are still stupid and lack common sense.
The inadequacy of these arguments lies in the observation that the same situation can be expected to hold five years prior to an AGI breakthrough, or one year, or... (as explained by Yudkowsky later in the same essay).
At this point a reader or two may perhaps be tempted to point out that if (A)-(C) are not considered sufficient evidence against a future superintelligence, then how in the world would one falsify such a thing, and doesn't this cast doubt on whether AI apocalyptic risk studies should count as scientific? I advise those readers to consult my earlier blog post
Vulgopopperianism
.