Det är mycket Lennart Bengtsson nu. Och oh the irony: knappast någon har väl de senaste veckorna i ord talat sig så varm som Bengtsson för vikten av att undvika politisering av klimatvetenskapen, och knappast någon har gjort så mycket i handling som han för att åstadkomma just sådan politisering.
Det har gått snabbt, från hans anslutning för några veckor sedan till den brittiska klimatförnekarorganisationen Global Warming Policy Foundations akademiska råd (som jag rapporterat om
här på bloggen
), till hans uppmärksammade avgång från samma församling i onsdags (som jag skrev om
på Uppsalainitiativet
). Och nu i fredags dök han plötlsigt upp, i ett annat ärende, på brittiska
The Times
förstasida: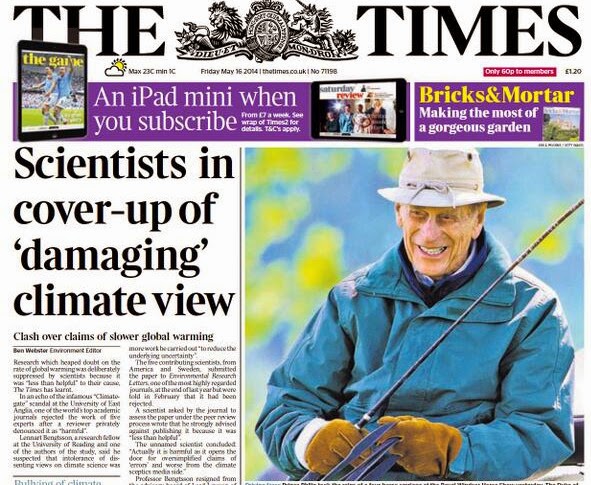 Även
Daily Mail
och
The Telegraph
rapporterar om samma händelse. Vad det handlar om är att Bengtsson fått en artikel refuserad av en vetenskplig tidskrift. Med stöd i en lösryckt mening ur refereerapporten menar Bengtsson att han och hans medförfattare blivit utsatta för fulspel, och att refuseringen handlar om att de kommit fram till obekväma resultat. Sedan tidskriften (
Environmental Research Letters
) valt att
offentliggöra refereerapporten
står emellertid klart att Bengtssons anklagelser är grundlösa. Vidare har Bengtsson
hunnit dementera de mest svepande generaliseringarna
i nyhetsrapporteringen.
Att forskare får sina manuskript refuserade av tidskrifter är vardagsmat. Att de då surnar till och finner det redaktionella beslutet felaktigt är snarare regel än undantag. Det vanligaste är att de då antingen vänder sig till tidskriften med överklagan mot beslutet, eller att de bedömer en sådan åtgärd som fruktlös och istället vänder sig till annan tidskrift i hopp om positivare behandling. Att istället springa till dagspressen och där göra sig till martyr kan jag inte påminna mig att jag tidigare sett exempel på. Jag säger som den här jättesöta kattungen: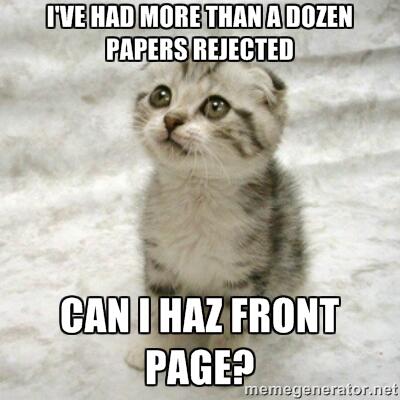 Fotnot
1) En annan av mina UI-kamrater, Lars Karlsson, har följt affären noga, och levererat flera träffsäkra kommentarer. Som
den här
:
Lennart, du bör vara mer försiktig i framtiden så du inte återigen gör dig till ett verktyg för de som vill politisera vetenskapen. Miljontals människor har nu serverats en falsk bild av varför din artikel avslogs. Jag vet inte hur mycket det berodde på journalisterna och hur mycket det berodde på dig, men du bär ett ansvar för att det blev som det blev.
Och
den här
:
(Länkar tillfogade av mig.)